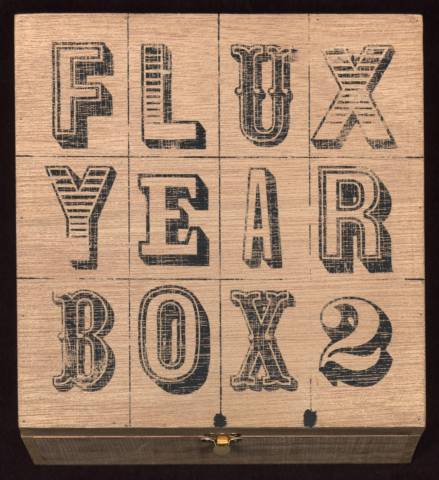 Materials
Black-and-white film (photographic materials); wood; metal; white paper; colored paper; tissue paper; ink; seed (plant materials); plastic
Description
Square wooden box opens on hinges to reveal a) manila pocket attached to the inside top of the box with 5 paper and tissue elements inside; b) non-removeable wooden partitions on the bottom of the box separating four sections containing a variety of mixed media objects. Outside the partitions are 12 film reels and 4 more paper or tissue objects.
Individual items in Flux Year Box 2:
TOP (all inside manila envelope, attached to inside top of wooden box)
1. tissue wrapping two pages: 1 blue cardstock reading "PULL/GLUE" in red ink; 2 is white paper with instructions on how to 'HUM," with taped tissue paper to detach and put on lips to help hum. (Bob Sheff)
2. Two Flux Post Cards: 1 is double-sided with the message "The Postman's Choice/ Le Choix du Factuer" on both sides; 2 is single-sided with the message "your thumb present now on this side of this card is the realization of my intention" (written in English and then French). (Ben Vautier)
3. Square cardstock with a target. Stamped ink over the bottom portion of the target reads "TO LOOK AT" (Anonymous).
4. Index card-sized manila envelope with 15 puzzles inside (Willem de Ridder), including "Please answer this question carefully. Yes No". The 16th paper is fortune cookie sized (by George Brecht and Ben Vautier): "Statement on the other side…"
5. Small square envelope containing a number of monogram cards for various Fluxus artists; also inside is Albert Fine's "Ice Cream Piece."
BOTTOM (objects inside the bottom portion of the box; position of objects is noted individually)
6. [on top of wooden partitions] Plastic baggie, labeled "Square Cards / Ben" with several square cards inside. Cards include "ART = BEN," "I HAVE ALREADY SIGNED EVERYTHING IN 1958," and "STREET COMPOSITION / LIE DOWN ON YOUR BACK" (Ben Vautier).
7. [top wooden partition] "Flux Medicine" (Shigeko Kubota): clear plastic box containing 18 clear empty pills and an instruction sheet from Armour Pharmaceutical Company
8. [top wooden partition] "Game Box" (George Brecht): clear plastic box with four multicolored balls. Two sets of instructions, one for "Ball Puzzle" and one for "Swim Puzzle." Also inside the wrapping for the Game Box is a plastic sheath with the label "Oldenburg Apple Stem," containing an apple stem painted red.
9. [middle partition] "Flux Corsage" (Ken Friedman): rectangular plastic box containing flower seeds
10. [bottom partition, left half] "Total Art Match Box" (Ben Vautier): inscription reading, "USE THESE MATCHS TO DESTROY ALL ART—MUSEUMS ART LIBRARY'S—READY—MADES POP—ART AND AS I BEN SIGNED EVERYTHING WORK OF ART—BURN—ANYTHING—KEEP LAST MATCH FOR THIS MATCH—"
11. [bottom partition, right half] Red and yellow plastic pepper (Claes Oldenburg, from false food selection)
12. [outside the partition, right side] instructions for the film viewer on yellow cardstock
13. [outside the partition, right side] Wrapped in tissue, two items: a) pack of small playing-card size card stock (Robert Watts): 6 Jacks, Kings, and Queens printed on the opposite side of a musical performance program. b) 2 shiny, longer pieces of cardstock, one red "SNOW EVENT" and one gold "MAILBOX EVENT"
14. [outside the partition, right side] small manila envelope with instructions for feeling the difference between the cards inside based on their color (James Riddle). Also inside is "Fluxus piece for G.M. by Albert M. Fine," which describes two audiences secretly facing one another.
15. [outside the partition, right side] 4 Fluxfilm reels
16. [outside the partition, left side] Wrapped in tissue, two items: a) small manila envelope containing a piece of folded paper labeled "UNFOLD," and on the inside of the unfolded sheet, "FOLD IT" (Ben Vautier). b) 9 small cardstock cards labeled "connect the dots" (F. Lieberman).
17. [outside the partition, left side] 2 Fluxfilm reels
18. [outside the partition, top] 2 Fluxfilm reels
19. [outside the partition, bottom] 4 Fluxfilm reels
NOTES:
• This FYB2 is missing the film viewer.
• The film reels have yet to be identified.
Artist Note
In the Fluxus Newsletter of March 1965, George Maciunas called for a second year box that would contain "book events" only, described as that which "are enacted by the reader automatically as he inspects the book or box… It may include flip books, solo games, or puzzles made of paper or other materials" (qtd in Hendricks, Fluxus Codex, 123).